We are open for business as usual. Contact your local branch between 8.30 and 17.00 or order online 24/7.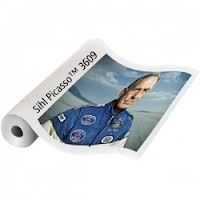 PICASSO SATIN PREMIUM CANVAS 370GSM. 914 X 30M ROLL
(3609-36)
£227.72
(Per pack of 0: £0)
Satin coated artist canvas with a 1:1 weave for high quality graphic art applications. Due to the special coating, this premium canvas is suitable for heavy ink loads and uniform prints, also in critical dark tones. The drying time is excellent with optimised ink fixation. The coated surface is water-repellent and offers excellent light-stability.

The product is certified with the Oeko-Tex® label ´Confidence in Textiles´ class IV (decorative textiles).

Advantages
Satin, water-resistant surface
Compared to uncoated canvas, the special solvent coating allows quicker drying, homogeneous colours and better colour brilliance
Flexible finishing for ideal performance during stretching process