We are open for business as usual. Contact your local branch between 8.30 and 17.00 or order online 24/7.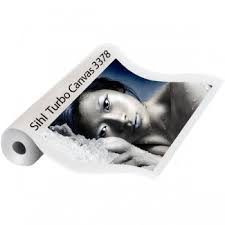 TURBO SATIN CANVAS 370GSM FOR SOLVENT PRINTERS. SPECIAL COATING ALLOWS HEAVY INK LOADS. 914X15M ROLL
(3378-36)
£124.80
(Per pack of 0: £0)
Satin coated canvas with a 1:1 weave structure for solvent inks. Due to the special coating, the Turbo canvas is suitable for heavy ink loads and uniform prints, even in critical dark tones: with optimised ink fixation. The coated surface is water-repellent and offers a good light-stability.

Advantages
Best cost : performance ratio
Real cotton/polyester canvas (1:1 structure)
Water-resistant, satin finish
Flexible finishing for ideal performance during stretching