We are open for business as usual. Contact your local branch between 8.30 and 17.00 or order online 24/7.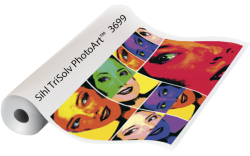 TRISOLVE PHOTOART GLOSSY PHOTO PAPER FOR SOLVENT INKS. 1067X45M ROLL
(3699-42)
£188.45
(Per pack of 0: £0)
TriSolv PhotoArt is an upgrade from our successful TriSolv PrimeArt. Users will be impressed by its brilliant colour reproduction, homogeneous gloss, and noticeably accelerated drying time.

Advantages
Water-repellent surface
Photorealistic and brilliant colour reproduction
Homogenous gloss in printed and unprinted areas
High degree of stiffness
High colour saturation
Best for eco-solvent ink